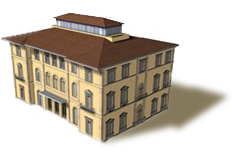 Venue
The meeting will spread over three floors of the Palazzo.
REGISTRATION, EXHIBITIONS and most COFFEE BREAKS will be located at the GROUND FLOOR. The MAIN SESSIONS will take place in the AUDITORIUM in the basement right underneath. The PARALLELL SESSIONS will be held on the SECOND FLOOR in the SALA VERDE.
Please check out the 3D-views and maps of the Palazzo as we will use it below. By clicking on the maps on the right you will be taken to an enlarged version of each map for better view.